Intelligent speech analytics
The efficient way to compliance
Book a demo to discover how our speech analytics tools can bring efficiencies and compliance to your business.
Recordsure Voice is a sophisticated AI tool that works with 'voice' to create value and provide powerful information and data. Voice can be anywhere where conversations are taking place, MS Teams, Zoom, telephone calls or face-to-face meetings.
We turn your customer conversations and documentation into valuable insights which drive performance and culture.
Our cutting-edge technology combines human-level intelligence with machine-powered capability to support compliance, customer care, risk management and sales at scale.
Intelligent speech analytics drives compliance, risk management, insights for quality assurance and better customer outcome.
Our intelligent speech analytics tools are specifically designed for regulated industries. We've combined innovative Recordsure-built AI and state-of-the-art machine learning technologies with the expertise of first class language scientists.
Recordsure's unparalleled voice solution records, reviews and analyses 100% of customer conversations and interactions. Our content analytics tools offer a highly scalable solution to match business requirements and market demand. 
Backed by a decade of intense research, development and deployment, Recordsure's solutions deliver unmatchable results and proven commercial benefits.  Recordsure clients include Tier 1 Banks, Private Banking and Wealth Management firms, Insurers and Government Services.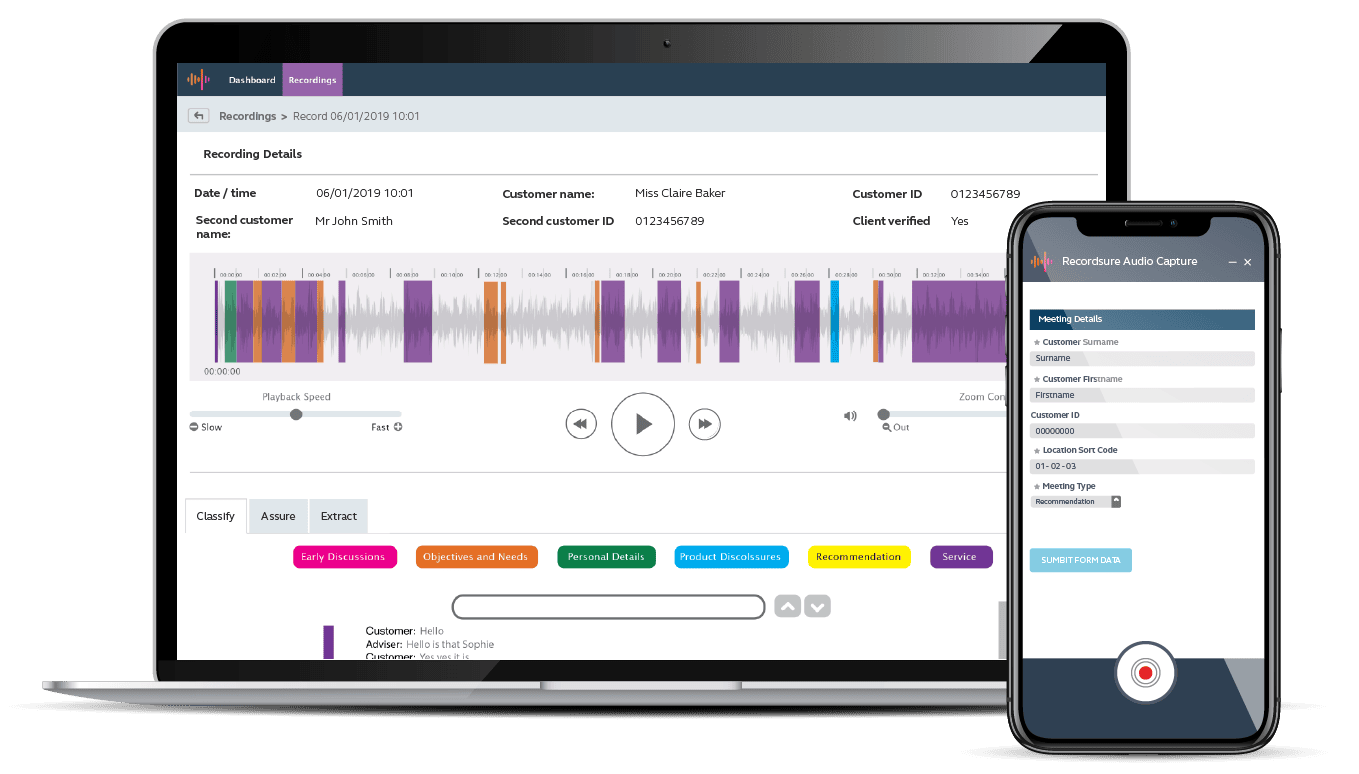 Save 50% admin time per advisor
Speed up processes, increase business efficiencies and spend more time with customers.
Recordsure's speech analytics solution provides a very accurate transcription of all customer-advisor conversations. This way, all conversations are quickly recorded and filed without spending extra time in post-meeting admin.  
100% capture and QA coverage for all calls
Record, monitor and analyse all customer interactions for QA and compliance. 
With saving over 50% in review calls and deploying a risk-based approach to call monitoring, you can review over 20 times more customer calls with the same staff. 
Consistent accuracy across all conversations.
Recordsure's speech to text transcription is driven by sophisticated AI technology designed specifically for financial services.
For more information or to request a follow-up call, simply fill in your contact details below. 
Recordsure Classify
Map out topics within a conversation for quick review
You don't need to listen to a conversation recording from end to end or read a customer file from cover to cover ever again
Recordsure helps regulated businesses to manage their challenges
While the commercial reality of post-pandemic continues to play out for years to come, the impact on the wealth management
Read More »
Contact us for more information